SEO is a combination of strategies, tactics, and techniques which leads to increase the visibility of your website on several search engines. These high-rankings in the search results of Google, Bing, or other search engines, in turn, improve the number of visitors to your website. In short, SEO for Website is both a science and art that generates huge traffic to the site without demanding any money.

Hope, now, you have an idea about Search Engine Optimization that you hear around the internet on the common and frequent basis. So, let's go further to learn 'how to perform SEO in order to assure successful outcomes for your business. In this article, we'll go with the satisfactory answer to this question in a step-by-step way so that you can obtain the best possible website.
Effective Guide to Do SEO for Website
 To perform the result-oriented SEO for your website, you should go through and follow the below step by step guide. This will for sure help you in getting good outcomes for the site and your business.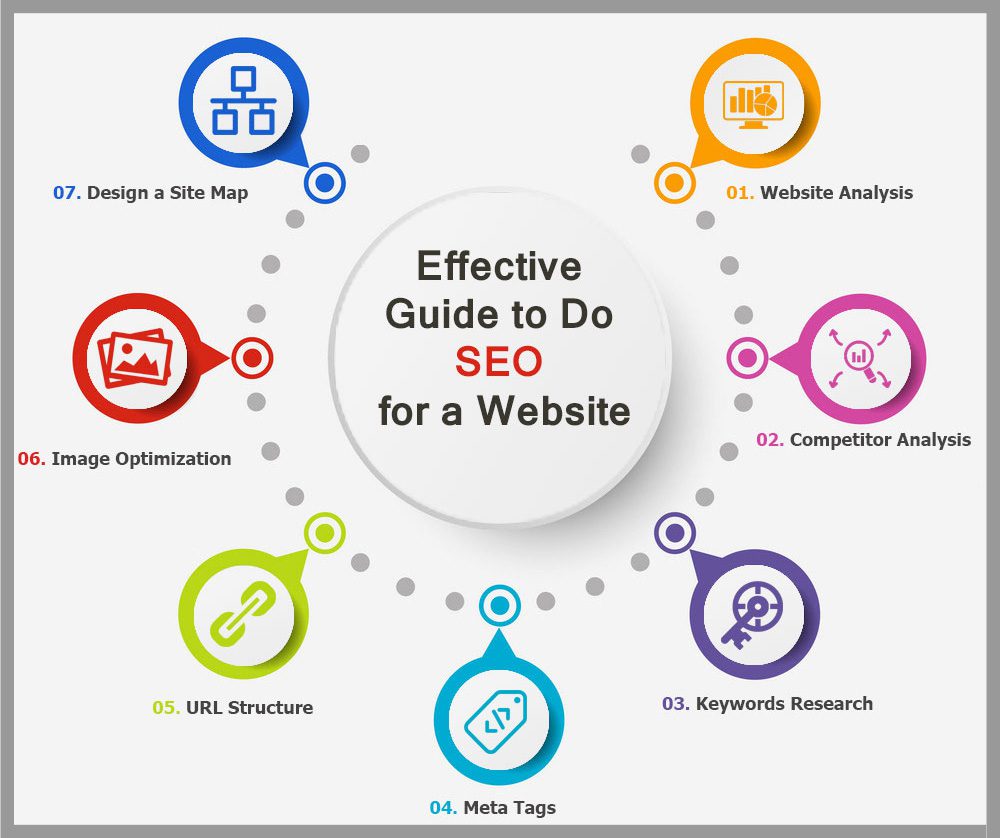 1. Website Analysis:
Analyzing your website is the initial stage of the designing process. It includes the study of Off-page, On-page, backlinks, history, errors, structure, and many other factors of the site.
Thus, there is a need to improve your analytical skills which will aid you in determining where & what to put on the website so that it gains more traffic. With it, analyzing your website will provide the idea of its current situation and efforts you have to make towards its growth.
2. Competitor Analysis:
It is an activity that will let you comprehend the current position of your website in comparison to the competitors. Here, you are suggested to analyze the sites that exist on the top of the results by search engines.
This will make you aware of a number of things like;
How many backlinks the top websites own?
What type of keywords & phrases they use?
What's the site's keywords or internal links strategy?
What's special in their content that results in driving traffic? Or more.
Acquiring the aforementioned statistics is quite beneficial in modifying your website such that it can achieve high-rankings by standing out of your competitors.
3. Keywords Research:
Keyword Research in SEO is the most vital process that involves selecting and analyzing a list of key phrases in order to make the content rank. You can research and locate the search terms people usually enter into the search bar of Google for a given query. After that, create your content by focusing on these search terms as your targeted keyword. There are a number of keyword research tools available online. Choose any of them and get details about search volume, keyword variations, current trends, and more. Some of the popular (free) keyword research tools are as follows:
Ninja Search Combination
Google Keyword Planner
Keyword Spy
WordTracker
Ubersuggest
4. Meta Tags:
After performing the keyword research, the next task you have to bring in practice is to make efforts on Meta Tags. Meta Tag is a text that provides the search engines with a description regarding the content of your webpage. However, they exist in the page's code and don't display on the webpage but still should be unique and compelling. This is to make the Google or other search engines understand 'what your website is all about in an impressive manner.
5. URL Structure:
URL Structure that you build up must be understandable and simple. Moreover, it should contain your target keyword as well. It is suggested because the complex URLs are responsible in turning your webpage confusing for search engines along with less user-friendly for the site visitors.
6. Image Optimization:
Nowadays, images are in trends. An image on your website can speak a thousand words and bring good traffic. Therefore, try to put some attractive, colorful, and unique, images in between the articles and blogs on your website. Remember that you have to optimize the images by using the vital alt tags and by arranging the file size.
The alt tags that you use are not visible on the web pages. They are used to provide the search engines with the information regarding the image you put in your content. This also lets the people find out the images (existing on your website) via their name.
7. Design a Site Map:
The sitemap is an HTML or XML file that includes the complete list of URLs of your website. Acting as an important file, the Site Map will aid the search engines in finding out your webpages along with making them crawl and list your website in the top search results. Thus, make efforts in gathering all the information regarding such descriptive sitemaps and create a good one for your site.
Conclusion:
This guide includes everything essential to do a good SEO for your website. However, if you want someone else to handle your Search Engine Optimization, you can avail professional help. Whether you execute the process on your own or with help of any affordable company, a proper SEO ensures the success of your business.
Ultimately, Good luck with taking your website amongst the top search results!