Google has published its annual ad safety report "Ads Safety Report". In 2021, the company blocked or removed more than 3.4 billion ads for violating Google Ads policies, according to the report. More than 5.7 billion ads were restricted in display, more than 5.6 billion advertising accounts were suspended.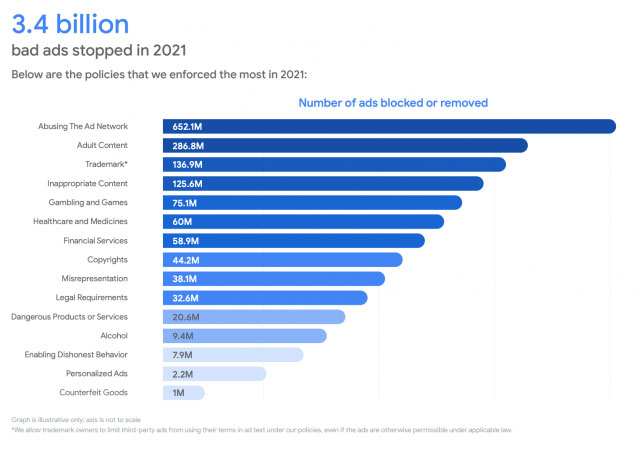 In 2021, the number of suspended accounts increased by 3 times.
"As we reported in our 2020 report, we have seen an increase in fraudulent activity during the pandemic. In 2021, we have continued to see attackers operating at an increasingly sophisticated and large scale, using a variety of tactics to bypass our detection systems. Such tactics include creating thousands of accounts at the same time and using methods such as cloaking and text manipulation to make our moderators and systems see advertising content that is different from what users see".
Google also said it has restricted or blocked ads on 1.7 billion publisher pages. Top 3 categories of sites against which Google has taken action: pages with sexual content, dangerous or humiliating content, promotion, and sale of weapons. 
Source: Google blog