Today, Elon Musk finally closed a deal to buy Twitter for $44 billion, negotiations for which lasted more than six months, and because of which the company even sued him, trying to force him to comply with the original agreement on the merger. Musk tweeted "the bird is free" and has already fired a number of Twitter executives, including CEO Parag Agrawal, who was appointed to this post in November 2021 when founder and former CEO Jack Dorsey left the company.


"Musk fired CEO Parag Agrawal and CFO Ned Segal after the deal closed," The Wall Street Journal reported. Twitter's head of legal policy Vijaya Gadde and general counsel Sean Edgett were also fired. At the same time, it is reported that the dismissed top managers will be paid multi-million dollar compensation.
It is not yet clear who will now proclaim the company, which has become the property of Elon Musk. Most likely, Musk himself will become the interim CEO of Twitter, and then cede this position to someone else.
Needless to say, Musk and Agrawal's relationship has been strained in recent months as Musk tried to back out of a deal to buy the company. In August of this year, Musk even called the former head of Twitter to a public debate, inviting him to discuss the number of bots on the social network. "Let him prove to the public that less than 5% of fake or spam accounts are active on Twitter daily!" Musk wrote. Instead, Twitter continued their legal battle against Musk, which eventually helped close the deal.
It's also worth noting that Musk has repeatedly posted tweets criticizing Gadde's approach to content moderation.
The day before the deal closed, Musk arrived at Twitter headquarters in San Francisco and brought a large sink with him, playing on the English idiom "let that sink in" (literally "let the sink in"), which means "try to become aware of what is happening".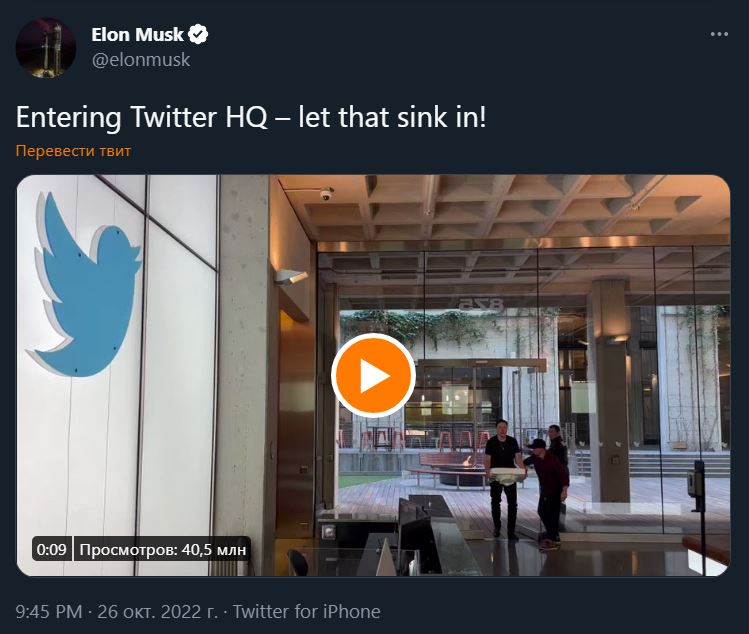 According to media reports, during this visit, Musk promised that he would not fire 75% of the company's employees (Twitter has 7,500 people), as previously reported. At the same time, Musk brought with him developers from Tesla, who, according to Bloomberg, will have to evaluate the code and the work of Twitter employees, and then provide a report to the new owner.
Let me remind you that Musk has previously stated that he is acquiring Twitter for the sake of the principles of free speech, which, in his opinion, the platform should adhere to. He also planned to deal with armies of bots, spam and the so-called "shadowbans".
A few hours before the completion of the deal, Musk published a letter to advertisers, in which he assured that Twitter would not "turn into a nightmare accessible to all", where you can publish anything without consequences, and once again emphasized that he did not acquire the platform for money.
"The reason I acquired Twitter is because it is very important for the future of civilization to have a common "digital town square" where a wide range of beliefs can be discussed in a healthy way without resorting to violence," Musk writes. "Currently, there is a huge danger that social networks will split into far-right and far-left echo chambers that will generate more hatred and divide our society."