TikTok, formerly Musical.ly, is a platform for short-form videos from lip-synching videos. Most TikTok videos are up to 15-second long, but you can create and upload 60-second story videos.
One trend that changed with the increasing popularity of the site is that the kinds of videos users post are now more diverse. They're not all music.
Stay-at-home constraints and social distancing measures boosted TikTok and caused millions to flock to the TikTok app unexpectedly. Users logged in to consume content and to create content.
TikTok's Rise to Fame
For whatever purpose, whether to ease boredom or keep connections going with the outside world, TikTok became a new avenue for self-expression. It is now an 800-million-strong platform in social media.
TikTok recorded 115 million downloads sometime in March 2020, while the pandemic began peaking.
It is no longer just a lip-synching, short-form video app for teens and younger millennials. TikTokers, who are creative and passionate enough, can skillfully turn their names into a brand and become significant influencers.
Influencers from other platforms, celebrities, and businesses are now on the platform as well. The demographic now ranges from the young to even seniors.
We are yet to see if this wide age-range in its reach is merely a trend or is here to stay, but it looks like TikTok will continue to dominate in 2021. Influencers and businesses are taking notice and now use the app for brand positioning and social media marketing.
Reasons why TikTok will Continue to Rule in 2021
1. TikTok Enables Diversity for Content Creators
One thing that changed with the site's rising popularity is that the types of videos people upload are now more diverse. They're no longer all music content.
We see all kinds of artists, including musicians, actors, stand-up comedians, and even niche artists like magicians, skaters, and the like. TikTok is a viable way to highlight talent, brand, and opportunities.
We now see multinational brands gracing TikTok's feeds. Recipes from restaurants or chefs can now even be compressed into short-form videos, making long processes consumable in a few seconds.
Sports games' highlights can also be compressed in a few seconds, and even essential events like political rallies can be chopped to short clips within TikTok's format.
The possibilities are endless, and TikTok's environment encourages much diversity and creativity.
2. TikTok's Advertising Program
With over 500 million active users worldwide, TikTok provides marketers a massive opportunity. TikTok has now surpassed the popularity of Twitter and Snapchat. It is also much less saturated with advertising than its other counterparts.
With its unparalleled virality, the visual app enables users to edit and upload 15-second videos with built-in filters, effects, and music — has truly shaken the marketing environment.
At the beginning of 2019, the app released a trial version of its ads.  Big names such as Grubhub, Nike, Fenty Cosmetics, and Apple Music have also been using TikTok advertisements to market brands in exclusive, visually convincing promotions.
The TikTok Advertising platform is unlike many of its counterparts, thanks to sophisticated targeting and special ad development capabilities.
Because advertising on the platform is new and unusual, they cost up to $10 per CPM and up to $300,000 in total for more extensive campaigns. They are available on average.
3. TikTok Trends
As with other social media platforms, hashtags are added to TikTok posts, so they are easily searchable. These hashtags are especially useful when content trends or goes viral.
Hashtags also mark challenges.  From trending song clips or dance steps, pranks, duets, and the like, it is not that difficult to make something "happen" or trend on TikTok.
And you don't have to be a topnotch creator or influencer to trend. Most viral trends come from users themselves. The level of UGC (User-generated content) makes TikTok authentic and more endearing to their followers. That is why trends quickly pick up as well.
For instance, the most popular video on TikTok in the first half of the year is from one of its users, @JustMaiko, doing the #AhiChallenge as they are going down an escalator.
4. TikTok's Influencer Marketing Activations and Brand Partnerships
TikTok once presented itself as an experimental trend for marketers trying to interact with Gen Z users. Still, its impressive growth established TikTok as a top social media app and leading marketing channel influencer.
TikTok's differentiating factor as a social media platform is its intrinsic potential to viralize any user. This, though, also makes identifying influencers with an impactful investment return quite challenging.
Today, TikTok's top 143 influencers reach nearly 1 billion daily active users, more than three times the U.S. population, and comprises 14% of the world's population.
Influencer marketing on TikTok is relatively new compared to other social media apps. But TikTok will continue to dominate in 2021 because it is one of the freshest avenues for influencer marketing.
An influencer marketing strategy can boost businesses. Around 52%-82% of customers rely on reviews and trust family, friends, and other peers' insight before making purchase decisions. For instance, here are some of TikTok's most prominent influencers for beauty and skin care, according to MediaKix: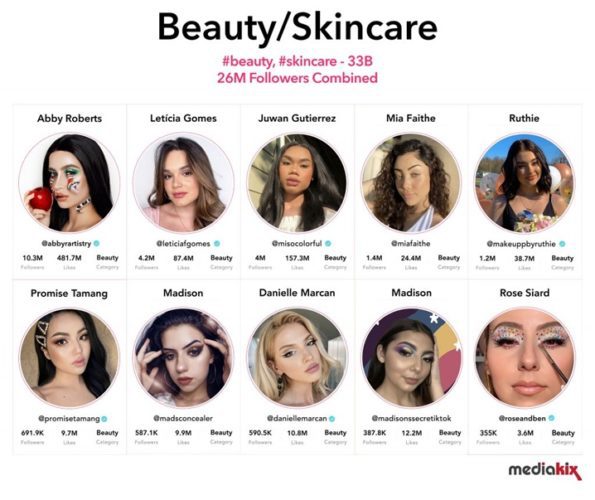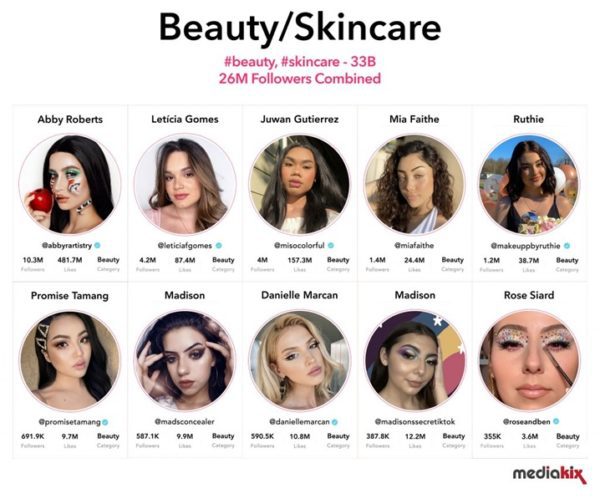 TikTok has invested heavily in its advertising appeal since 2018. The launch of the TikTok Creator Marketplace allowed brands to manage their campaigns by enabling brands to search TikTok's top influencers.
For a good brand alliance, a major TikTok influencer may earn as much as $50k–150k.
The influencer marketing's success in TikTok, the influencer, and the brand they represent must have the same or complementing voice.
The influencer is like an ambassador of a brand when they begin to endorse it, so brands must pick the right influencer that will not deviate from what the brand is all about.
5. TikTok's Support for Businesses
Hashtag Challenges enable brands to get involved in the user community by inviting TikTok users to create content around a hashtag. It includes Hashtag Plus that adds a shopping feature to the user experience. Meanwhile, in-feed videos range around 60 seconds long, with sound.
Brands can also insert themselves more directly into the content creation experience, whether it is a video, AR, 2D, 3D, or AR format. It can be added to the foreground or background of a video.
TikTok doesn't publicly disclose the pricing for its ad tools and solutions. Its website details some of its budgeting requirements. TikTok's ad rates on a CPM basis remain cheaper than Facebook, amid the global crisis.
6. TikTok and Social Distancing
As the world continues to combat the pandemic, we all enter a new normal that we are not prepared for. Nonetheless, we all are learning to cope and thrive despite the changing and challenging times.
TikTok became an effective avenue for information dissemination during the pandemic and a way for people to reach out amid social distancing measures.
We continue to adapt to have a robust online connection with family and friends and the world around us. We have increased our online presence as social distancing measures have improved.
Some TikTok creators admittingly say that they use the app to cope with depression and anxiety on their feeds.
How an app can help people cope with the setbacks of social distancing is a phenomenon in itself. But for this reason, TikTok, which highlights content creators from various backgrounds regardless of race, nationality, and belief, will continue to dominate 2021.
Conclusion: TikTok is a Fresh and Unique Social Media App
Social media upends our lives repeatedly as it continues to transform the way we communicate, receive information, and promote brands.
Social media is a digital technology further nurturing the global culture. Whether the purpose is to connect, communicate, or convert, TikTok makes way for unknown content creators to showcase their talent, product, or service through video content.
Such is the remarkable effects of Digitech on information, communication, and mass media. TikTok is one testament to this.
TikTok has come a long way from being a Vine alternative. It also made the transition of Musical.ly users smooth towards the TikTok app.
Also, TikTok dominates other social networks, and it is the norm now for TikTokers to share their TikTok content on Facebook, Instagram, and Twitter. With TikTok, content creation is brought to a whole new level.