Web technology came into the forefront of the fight against the global pandemic. Aside from keeping the world informed and connected during the crisis, it also helped retain continuity in many sectors of government, business, and education. Digital technology's effects on education indeed made way for quick adoption to blended learning amid changing and challenging times.

This year, children worldwide have had their education significantly interrupted as schools struggle to cope with frequent closures and reopenings and the transition to online schooling if it is even an option. Disadvantaged children, on the other hand, have been disproportionately affected by the emergency measures.
Educational technologies made way for schools and universities to continue learning for students from around the world. As schools closed to observe basic health protocols due to the pandemic, educators and parents embraced new technologies to pursue learning.
Whether schools and families are prepared or not, the reliance on web technology grew dramatically. Blended learning options continue to rise today to address the different learning demands and cater to different kinds of students by offering different modalities in learning.
Even in the professional arena where continuous learning is also needed, eLearning or distance learning became necessary for upskilling and continuous learning. For instance, in the medical community, web technologies proved crucial in facilitating collaborative research and learning about the Covid-19 virus, combatting the disease, administering the right treatment plan, and establishing international health protocols.
Integration of blended learning technology to traditional in-class methods has begun even before the pandemic. The transition to homeschooling or distance learning became easier since the technology is already in place.
Statistics show that an average of 53% of 11-year-old minors already have a smartphone, and students from 8 to 11 years old have five or more digital devices. For students aged 12 to 15 years old, around 72% have three or more digital devices. It means that digital devices are used in approximately 51% of families with children between the ages of 3 and 15.
When it comes to educating students from the basic to collegiate levels, recent research demonstrates the need for classroom-type teaching in addition to independent study time. It is where blended or hybrid learning comes in.
What is Blended Learning?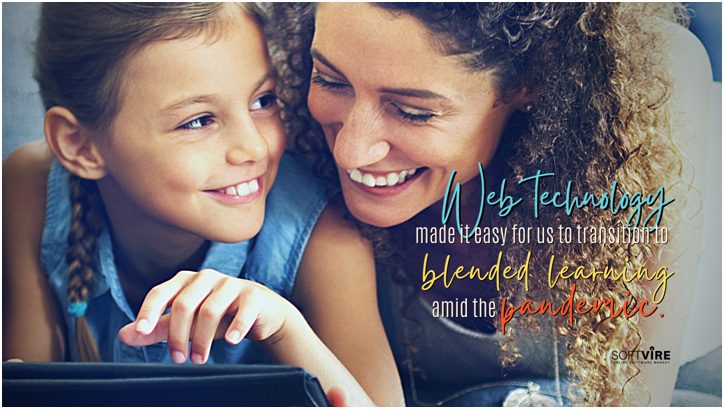 Blended learning is not exactly the same as online learning or distance learning. Online learning is when at least 80% of the course content is delivered through online methods. It could be a traditional curriculum, modular, and other modalities as long as the method of delivery is through the web or online.
Blended or hybrid learning consists of a mix of delivery methods for course content between online and face-to-face interaction. Blended and online courses alter how content is delivered and reshape conventional educational tasks and offer new avenues for learning.
These learning avenues include the following:
Lectures: an organized verbal presentation of subject matter often augmented by visual aids.
Face-to-face teaching: The teacher provides face-to-face instruction, accompanied by technology in the classroom or computer lab.
Supervised Online Learning: Instruction occurs via an online platform, with periodic face-to-face meetings.
Rotation Mode: The student rotates between self-paced online learning and face-to-face instruction. Schedules are fixed but flexible.
Flex Mode: The majority of instruction is provided electronically, with teachers receiving assistance in small-group contexts.
Personalized blend: The teacher creates face-to-face and on-the-go learning options that span the physical classroom and virtual spaces. Learning is a continuous process, where time is a variable.
Self-blend Mode: Students take online courses to supplement their traditional schools face to the face course catalog.
Online lab: Learning happens in a physical lab provided by an online teacher and supervised onsite by educators or facilitators.
Discussion groups: gather either formally or informally to discuss ideas, solve problems, or make comments. Common methods of conversing including meeting in person, conducting, using text messaging, and the like.
Group Break-Out Sessions: participants are broken up into smaller groups after the main stage presentation to discuss a specific topic.
In-classroom Computer Lessons: Using computers to help overcome communication challenges, share tasks, participate in multiple activities, provide real-time communication experiences with others regardless of distance, reinforce or broaden lessons, and increase understanding.
Remote learning: Allows students and teachers to stay linked and involved with the content even while working from home.
The current health crisis has caused the majority of modalities delivered online, but in areas where health risks are not as high, face-to-face interaction was still practiced. But in high-risk areas where schools were shut down, educators had to quickly improvise how to deliver teaching by maintaining some level of "classroom" teaching. "Face-to-face" interaction is now redefined as schools transitioned to digital platforms or online classrooms.
Digital classrooms became the norm, and during the pandemic, distance learning and homeschooling have become essential for maintaining learning continuity. In these evolving and difficult times, web technologies can help make learning more enjoyable, meaningful, affordable, and dynamic.
4 Ways Web Tech is Used for Blended Learning
1. Learning Management
It is a skill of developing teaching and learning strategies that result in accomplishing educational goals set for students. Learning management focuses not just on teaching but also on assessments, especially when teaching modalities happen online.
Teachers can interact and assign tasks with a learning management system, provide feedback, and gather resources in these online platforms such as Schoology, Google Classroom, and Blackboardites.
Teachers and administrators are empowered to have rich dialogs with parents, students, and stakeholders, all to improve learner-centric approaches amid online or digital modalities.
2. Self-Organized Learning
Teachers are empowered in a self-organized learning environment to be the key drivers for learning. They can take the classroom (physical and digital) as a venue for discovery where they direct learning while allowing them to discover, learn, and progress independently.
When teachers frame learning by directing students toward controlled experiences, the learning experience becomes highly focused and more meaningful. Students engage in directed teaching and practice by following the teacher's lead.
Examples include taking notes from video tutorials or teacher-recorded lectures, completing digital worksheets, or participating in whole-class reviews using the web or mobile apps. Teachers, in turn, empower their students to lead, which can lead to deeper challenges and learning.
3. Collaborative Learning
Collaborative learning is an educational approach that uses groups to improve learning through collective effort. It provides the advantage of having learners work as a team to solve problems, complete tasks, and learn new skills and ideas.
Web technology can be used in this student-led learning modality via specialized apps for students like Google Classroom or Google Meet. Collaboration promotes critical thinking and a more personalized learning experience based on student's needs or interests using a plethora of online resources.
Networking web portals like LinkedIn, Skillshare, and Twitter provide an open the door to students to connect with industry experts who can add value to their learning journey.
Students can also use web technology for video conferencing, to conduct sessions with experts or mentors to further link their curriculum to the real-world and bring relevance to their discoveries as a group.
Collaborative learning also allows teachers to provide personalized support to their students. They can provide the students' materials and resources, help broaden their student's networks, and address concerns and queries that are not answered or elaborated within their groups.
So, in a way, the level of autonomy that students have is out of good use, and the teacher can bring out unique ideas and methods that students arrive at as they discover things collectively.
4. Authentic Learning
Authentic learning covers a range of educational and teaching strategies that incorporate the application of learned knowledge to real-world experiences and dilemmas, including future workplaces, professional experiences, and personal life.
Students can easily see the value and opportunities of what they learn when learning is applied and transcends into real-life applications. It piques their interest in learning, discovery, and practical application of what they learn in the classroom.
Blended learning with an authentic audience outside of the classroom provides consistent context for how curriculum relates to real-world situations.
Teachers should use Schoology and Google Hangouts to allow students to practice internal sharing of work. Encourage them to share their voice intelligently with the general community or a specific audience. For instance, they can post their work on social media, blogs, video streaming sites, and highly-vetted forums.
In this way, students get instant feedback on ideas they put out there. However, teachers and even parents must be on standby to provide guidance and protection since posting anything publicly has some risks. Guard against cyber-bullying and an unhealthy reception for criticism or negative feedback.
3 Examples of Web technologies Used in Blended Learning
1. Augmented Reality (AR)
Augmented Reality revenue is increasing and will reach up to USD 161.1 billion by 2025. AR integration to web technology is already being used in blended learning. Mobile apps on smartphones make the AR tech more accessible as well.
Augmented reality applications can transform learning processes. These applications take the user's experience to a whole new level. As a result, everyday tasks become engaging yet straightforward.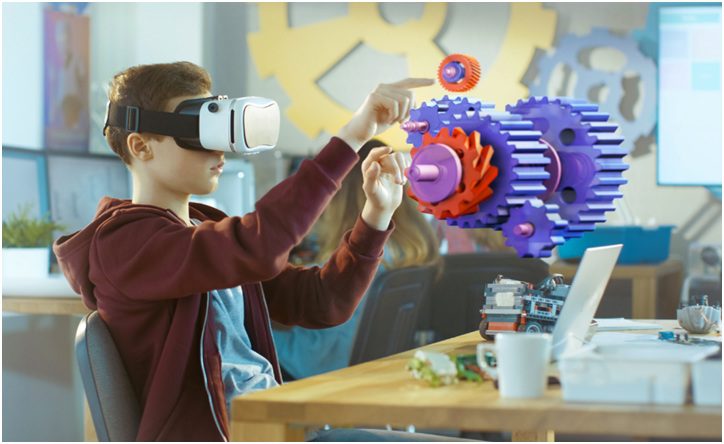 AR and VR in the classroom would increase student effectiveness and learning capacity. These advancements would assist in transforming boring learning into an exciting and immersive experience.
The methods to expand information presentation can be used to ensure that information is implanted sufficiently within students.
AR will bring educational images produced with drawing software like CorelDraw Graphics Suite to life. This advancement in technology has the potential to make learning more enjoyable and interactive for students.
2. Artificial Intelligence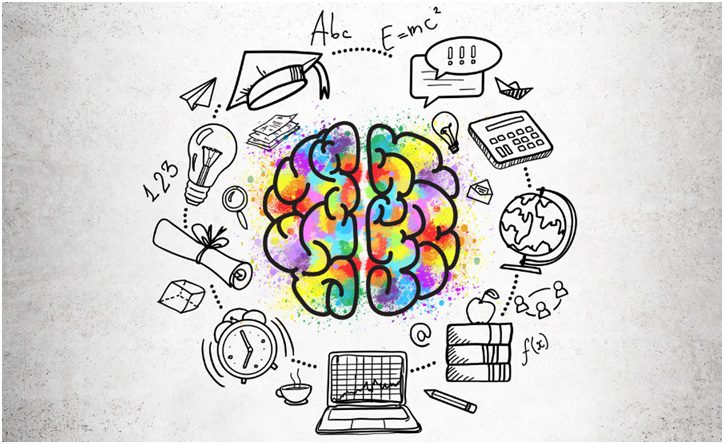 In recent years, Artificial Intelligence (AI) has significantly impacted all industries, including the education sector. Educational institutions are now recognizing AI technology's enormous potential. It will also help teachers and students stay motivated and up to date as the AI revolution unfolds.
3. Cloud Technology
Educational institutions can now provide students with interactive classrooms using cloud-based solutions. Students' educational expenses can be lowered, and onboarding costs for teachers because remote teaching and learning are made more efficient with cloud technology. Teachers can create online courses and give them to students from all over the world at the same time. Students can also take part in simulated testing, potentially saving time and money.
Conclusion: Education in the New Normal
Combining classroom instruction with eLearning is critical to understanding the effect of technology. Students can learn at their own pace while getting immediate feedback. Access to various mediums of learning also makes learning more fun and engaging. Furthermore, students can gain a global perspective on global social issues.
Parents, on the other hand, can be more involved in their children's learning process. They can better understand their children's strengths and weaknesses and have an opportunity to guide them in the right direction.
Teachers can save a lot of time and effort by providing them web technology tools that can enhance their teaching and even help them harness the strengths and improve their students' weak areas.
In a time when things are uncertain, blended learning strategies enable educators, parents, and students to rise to the challenges of the new normal in terms of education.