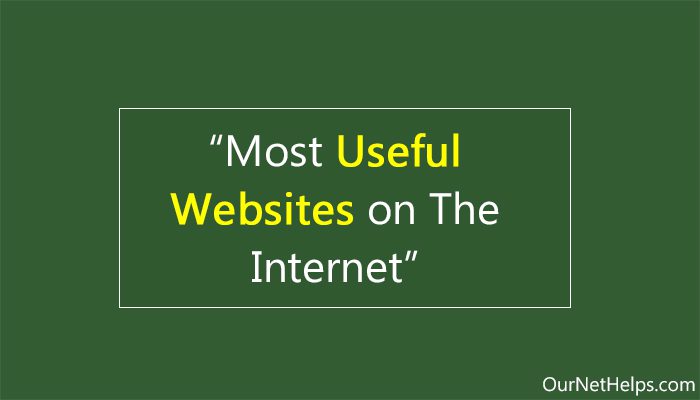 List of 50+ Most Useful Websites on the Internet
There are millions of websites on the internet, and new ones keep popping up every day. This is a list of 50+ lesser known useful websites that will help you reach one goal or complete one task extremely well. They have simple web addresses, easy to remember and made for one purpose. These sites will inform you, educate you and help you make better and smart decisions.
Some of them will also entertain you. Why include them in this list? Because we all need small breaks from time to time. Relax our muscles, shut our eyes and take a deep breath, clear our mind and focus better. You know what I mean. So without wasting time in matters that do not matter, let us proceed!
Read Related Post: The Best Graphics Design App and Websites
1. Flightstats.com – Global free flight tracker and travel planning.
2. Anonymouse.org – Surf the web without disclosing your identity or location.
3. iRuler.net – Use this internet ruler for measuring.
4. Evernote.com – Best note taking app for any platform.
5. Random.org – Pick random numbers, flip coins and more.
6. Lovelycharts.com – Create flowcharts, network diagrams, sitemaps, etc.
7. Mywot.com – Check the trust level of any website.
8. Basecamp.com – Basecamp is the ultimate project management cross-platform SAAS program to manage your team, project and more.
Learn: Top 3 Ways to Increase Website Traffic (Guaranteed)
9. Lynda.com – Learn new software, creative, and business skills.
10. XE.com – Currency converter covering every world currency.
11. Agoodmovietowatch.com – Helps you find a good movie to watch.
12. Zamzar.com – Converts files from one format to another (supports over 1200).
13. Codecademy.com – The easiest way to learn how to code. Learn HTML, CSS, JavaScript, PHP etc.
14. Alertful.com – Quickly setup email reminders for important events and stuff.
15. Hightail.com – Easily send and share large files securely.
16. Easel.ly – Create quick, easy infographics using simple templates.
17. Ewhois.com – Find out other websites owned by a person with reverse analytics lookup.
18. Paper.li – Create a newspaper out of links shared by your followers on social media.
19. Goo.gl – Shorten long URLs and convert URLs into QR codes.
20. Getpocket.com – Pocket for web and mobile can save articles and web page on the fly so you can read them later at leisure.
Also Read: Best Free SEO Plugins for WordPress (Updated 2017)
21. Iwantmyname.com – Helps you search domains across all TLDs.
22. Plustransfer.com – Transfer files of any size without uploading to a third-party server.
23. Getnetwise.org – All you need to know about keeping the net safe.
24. Fiverr.com – A fun online marketplace for small services that you can pay 5 dollars for. You can have great fun buying these services or make some money offering the services for people around the world.
25. Privnote.com – Create text notes that will self-destruct after being read.
26. Wetransfer.com – We Transfer is a free service for sharing big or small files online.
27. Boxoh.com – Track the status of any shipment on Google Maps.
28. Copypastecharacter.com – Copy special characters that aren't on your keyboard.
29. Ohdontforget.com – Schedule text message reminders in advance so you don't forget stuff.
30. Wolframalpha.com – Gets answers directly without searching.
31. Oldversion.com – Download the older version of any software in case the new version is not working correctly.
32. IFTTT.com – Create a connection between all your online accounts and set it on auto-pilot.
33. Freeimages.com – Download stock images absolutely free.
34. Rxlist.com – Drug index to know what the pills you're taking actually do and there is also a feature that will help you identify your pills, in case you mix two up by mistake.
35. Wikiquote.org – Collection of quotations.
36. Qlock.com – Find the local time of a city using a Google Map.
37. Thumbalizr.com – Allows users to take a screenshot of a website & download it in all sizes.
38. Mayoclinic.org – Healthcare information from the experts.
39. Zerodollarmovies.com – Search for free full-length movies on YouTube.
40. Livestream.com – Broadcast events live over the web, including your desktop screen.
41. Builtwith.com – Find the technology behind any website or blog.
42. Skillshare.com – Learn anything from anyone & anywhere.
43. Lastpass.com – The excellent password manager that you can use on mobile, tablet, desktop and web browser.
44. Jotti.org – Scan any suspicious file or email attachment for viruses
45. Mathway.com – Solve your math here no matter how complex it is.
46. Webmd.com – Provides extensive health information services.
47. Marker.to – Easily highlight important parts of a web page for sharing.
48. Duckduckgo.com – A search engine that uses information from sources like Wikipedia, Yahoo, Bing and WolframAlpha to display results. It protects privacy and does not record any information about the user
49. Printfriendly.com – Make any web page printer friendly.
50. Otixo.com – Easily manage your online files on Dropbox, Google Docs, etc.
Read: Top 5 Legit Ways to Make Money Online (Updated 2017)
51. SEMrush – SEO Tools – Discover your competitors, improve your SEO, boost your rankings.
52. WordPress.com – Fastest and the best way to create a free blog.
53. Whoishostingthis.com – Find the web host of any website.
54. Unfurlr.com – Find the original URL that's hiding behind a short URL.
55. Ournethelps.com – Provide online web services, courses, and free guest blogging service.
56. Online2pdf.com – Convert any file or image into a pdf file.
57. Ctrlq.org/rss – A search engine for RSS feeds.
58. Any.do – Best task manager and to-do app for all platforms.
59. Scribblemaps.com – Quickly create custom Google Maps online.
60. Picturetrail.com – Create slide shows from your photos.
61. Pdfescape.com – Quickly edit PDF files in the browser itself.
62. Gtmetrix.com – Perfect tool for measuring your site performance online.
63. Drinkify.org – Listening to your favorite music? Find out what drink goes with it.
64. Iconfinder.com – The best place to find icons of all sizes.
65. Google.com/fonts – A good collection of open source fonts.
66. Tubemogul.com – Simultaneously upload videos to YouTube and other video sites.
67. Readability.com – Removes all the clutter from the web page to help you read the text easily.
68. Office.com – Download templates, clip art, and images for your office documents.
69. Quora.com – Ask questions on any topic and get answers for free.
70. Smallseotools.com – Free SEO tools, Plagiarism checker, Grammar checker, Backlink checker, Article rewriter, Keyword position etc.
71. imo.im – chat with your buddies on Skype, Facebook, Google Talk, etc. from one app.
72. PayPal.com – The most popular way to receive and send money online.
73. Upwork.com – Here is a website that will connect you to companies and people around the world that will provide almost any service that can be done online at very affordable prices.
74. OneDrive – One Drive is a free website and service by Microsoft that allows anyone to be able to store documents, notes, photos, and videos that are important to you.
75. Monster.com – is the largest and most popular website for posting your resume, job searching and finding the right person to hire.
76. Spotblue.com – Spotblue offer an award-winning Turkey Real Estate service helping you find the ideal property in Turkey.
77. Eata.org.uk – Need Rehab Help, Addiction Help, Detox Help and much more.
78. Land Grid Data – USLandGrid – Land Grid, Section Township Range, Public Land Survey, Texas Land Survey.
Learn: White Hat Link Building Tips for 2017
OurNetHelps Provide Online Web Courses and Services. All Courses and Services are Professionally Certified By OurNetHelps Experts Team. We are working hard to give you our awesome or best experience.