Starting a business is high time, especially in this new normal economy. As the pandemic continues to rage, it is not only causing a global health crisis. The world's economy is also greatly affected. Many businesses closed down, and most suffered retrenchment as companies scaled down to stay afloat.

Most businesses also moved online and began distributing their teams for remote work or resort to outsourcing remote workers to keep their business alive amid the circumstances. It has caused a level of uncertainty concerning job security.
But surprisingly, new normal business strategies also sprang up. It shows that the economy can pick up, and there is more room now more than ever for new entrepreneurs entering the business sector.
But what if you have no capital to start a business with? Is it possible to start a business with no money?
It takes a fresh perspective and a paradigm shift when you are starting a business with no money. Your creativity becomes your core capital in the absence of money. You need creativity to start a business, whether you have a budget or not, but one's creativity and innovation have to crank up a notch when financial investments are not in the equation just yet.
Even those with capital must think afresh as well. We live in an ever-evolving economy because of recent world events. Entrepreneurs need to be wise in spending money on the business. There are a lot of ways to earn a good profit without throwing funds. All it takes is your determination and imagination to get things going.
You shift from the typical questions like "What need does the market have and how can I fill that need?" to "What resources do I have and who do I know?"
What You Need to Kickstart a Business with No Capital
1. Clear Goals: Specify What Zero-Investment Business You Can Start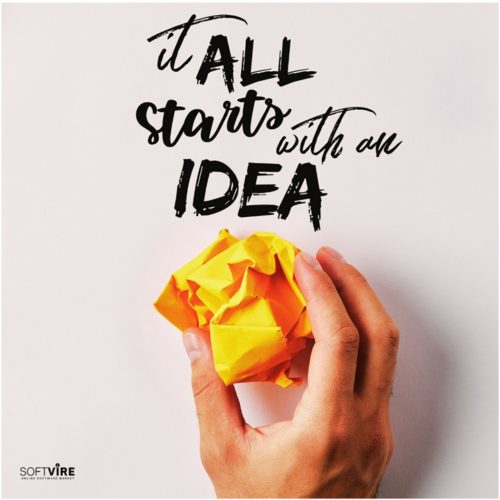 Any endeavor you start should start with clear and careful planning. Again, even if you start a zero-investment business, you still need to plan well and plan with success in mind. Don't treat your future business any less just because you do not have the money for capital. Treat it like a big and successful business even now, so every decision you make will align with that long-term goal in mind.
You may have to start with a small-scale version of that business, but remember that great things come from small beginnings. Imagine if you have an apple in your hand right now. You may be able to count the number of seeds in that apple, but you have no idea how much apples can come from those few tiny seeds IF you plant the seeds at all.
There are several new normal business solutions you can explore and create a zero-investment business to start with. You may be starting small, but as you plant your ideas into clear actions, nurture the growth that you see, even as insignificant they may seem, then you will eventually see your business flourish. The future capital you need to scale the business up will come from the revenues of the business itself, which you are starting now at zero investment.
Zero-investment does not mean cheap. So treat your business right even now, and be discerning and decisive in the activities you choose to do in growing your business.
You can use SMART Goal-setting. It means that your goals need to be Specific (simple, sensible, significant), Measurable (meaningful, motivating), Achievable (agreed, attainable), Relevant (reasonable, realistic and resourced, results-based), and Time-bound (time-based, time-limited, time/cost limited, timely, time-sensitive).
Set short-term goals and mid-term goals to break down your long-term goals into nuggets you can easily accomplish in phases.
2. Resourcefulness: Start with What You Have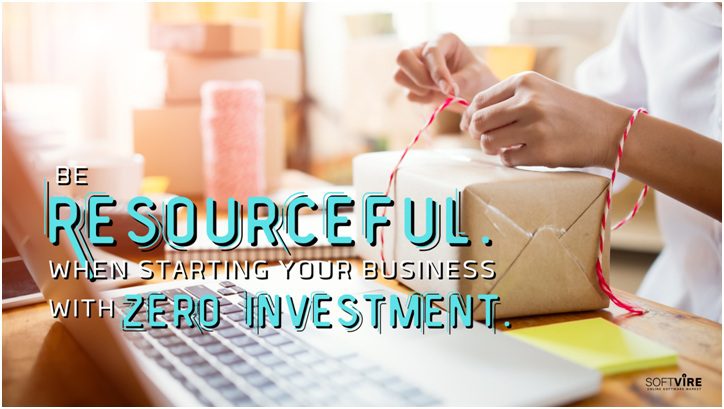 Although you would eventually need to shell out some investments to scale up your business, you can start wherever you're at right now and utilize the available resources you have to kickstart your business. As revenues come in, you can begin to invest them back into your business to improve revenues. For now, you can start small, even as small as you like.
If your end goal, for instance, is to have enough money to open a brick-and-mortar store or office, you can begin by selling your product or services from the comfort of your home. You can network with your inner circle first, like friends, family, or neighbors. You can then branch out to connections you have beyond that, like office mates, classmates, and other acquaintances. If you already have internet access anyway, why not use it to earn money?
It does not matter if you have no funds, for now, to open up your website or buy your domain. Opening your page on social media or your local eCommerce platforms is free. You can take quality photos and videos of what you offer even with your mobile phone.
There are free photo and video editing tools out there you can use to incorporate professional-looking imagery into your content.
If you are not adept at designing your promotions, you can try web design tools or even those that also help you create attention-grabbing graphics. A lot of these tools offer a free version of their app for you to test out.
In addition, there are free graphic design platforms like Canva that have a lot of free templates in its library for social media graphics, posters, presentations, documents, and similar visual content.
Resourcefulness is key when you start out any business, especially one where financial resources are limited. So, start with what you have.
Here are other resources at your disposal that you can use:
● Skills and Competencies
Audit the skills you have and the knowledge you know relevant to the business you want to start.
● Experiences
Write down what you have done in the past and how they can help you start your zero-investment business. For instance, if you used to work in media and start your own graphic design business, what did you learn then that you can use now?
● Networks
Identify the networks you have made through the years. Let's go back to our example above. If you have worked in media before, start contacting people you trust in the industry. Inform them that you are opening your own graphic design company. Submit portfolios you have, or even offer an X-deal, where you create an image for social media or their website pro bono in exchange for social mentions or even a project from them.
● Tangible resources
List down all that you own that may be used for your business and what you currently have access to.
Going with our example one more time, if you already own a computer or laptop, you don't have to invest in new equipment just to kickstart your own graphic design business. If you already have all the graphic design apps and tools you need to accomplish your job, then use that.
If you already have access to a stable internet source, then there's no need to invest in that for now. If you don't have your internet access, you can even go to a family or friend's house and tell them what you're up to, and ask if you can use their internet to contact clients and the like. You can also go to your local library or anywhere that offers free public wifi. However, make sure that you also know public wifi safety and secure your device against cyberattacks.
If you are opening a food business, then you can start with whatever appliances and cooking equipment you already have at home. You can create sampler versions of your food and take Instagram-worthy pictures for posting. You are probably doing that already anyway, if you're a foodie, to begin with.
To cover the costs, you can take orders from your circle of influence first, so you can also test the waters with people who know you and trust you. You can ask to get a down payment for their orders, so you have something to spend on ingredients. You can also ask your customers to shoulder the shipping or delivery fees to avoid further spending unnecessarily.
The important thing is to start, even if it means you need to start with only the resources and connections available to you right now. Just start somewhere to get the ball rolling.
3. Financial Assistance: Research Funding and Grants Available for Business Startups Like Yours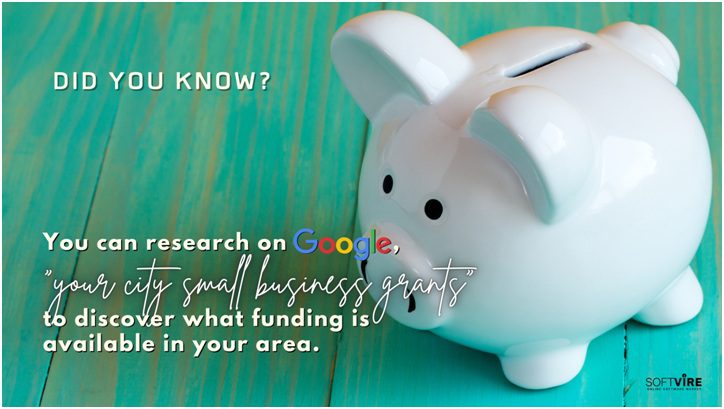 When you have zero-investment or a shoestring budget for your business, you can begin researching for available funding and grants available in your area that you can apply to. For instance, if you are starting a food business, you can connect with public and private cooperatives in your area that may be offering financial assistance to business owners like you.
Most farmers' markets are a great example of this. Farmers who are members of a cooperative or local organization can come and sell their produce at no extra cost. Government funding may also be available in your area, especially since most governments offer farmers incentives to increase food production and supply.
You can also check organizations that give grants to startup businesses, microbusinesses, and the like. One example is the Small Business Association, Grants.gov, and National Association for the Self-Employed. There are those focusing on helping specific niches or people groups, like Women's Business Centers or even the National Association for the Self-Employed. You can also research on Google, "your city small business grants," to discover what funding is available in your area.
Another funding strategy you can try is Crowdfunding, where you advertise your campaign for free, so users that like your proposition can donate towards your business cause.
You can show a product or service sample and state your Unique Value Proposition (UVP), an articulated summary of the benefits your product or service brings, and what sets you apart from competitors. Your UVP is something that you set from the beginning, so it's just a matter of translating it into a convincing crowdfunding campaign.
Other Sources of Funds
You can also find other sources of funds, like family and friends, bank loans, savings and credit cards, or microloans. Just tread lightly with regards to borrowing money, even from family. If you can avoid it, do so.
A bank loan, for instance, is risky since you are just starting your business with zero investment to begin with. It means you do not have the money to lose in case your business does not work. You might end up with a pile of loans and interests you cannot pay, which can upend your financial stability altogether.
You can take calculated loans, like borrow a small amount of money first, say from a microloan facility, just enough to get your business running. I say calculated because it should be an amount you are willing to lose, if ever, and pay up even if the business does not immediately pick up. For instance, if you have some savings, you can allot 10% if you need to pay up this loan before the business starts earning. It means it will be wise for you to borrow the same amount as that savings money you set aside, so it's easy for you to damage control in the worst-case scenario.
It is why I said to tread lightly on borrowing money. You can start small, but without the liability and extra pressure of debts, you can work hard on growing your business in peace. Every business is risky, so if you do not have funds just yet, it is wise to start small with low-impact and even zero-investment strategies to jumpstart the business you have in mind.
With the additional money, you can recruit more employees, purchase new equipment, sell your company more effectively, or expand more quickly. You can still finance your company even if you don't have any money. There are thousands of grants available from both private and public sources to help you develop your business.
Also check: invoice finance for new start businesses
4. Adaptability: Test and modify
Flexibility and adaptability are business assets. You excel by being open to changes in the environment rather than being too focused on a particular target or outcome.
Existing businesses usually take longer to adapt than new businesses because they have a greater propensity to maintain the status quo. New businesses, on the other hand, have the advantage of adaptability to current situations and challenges. For instance, micro-saas businesses in the new normal have sprung up in the past year to address new challenges and problems. One example is the rise of educational technology (edutech businesses), especially those providing distance learning tools for both students and educators.
Since new businesses are not bound by the way things have already been done, entrepreneurs will profit from changes in market expectations, technological shifts, or evolving laws by realigning their businesses to take advantage of those trends.
5. Consistency: Action is a Foundational to Your Success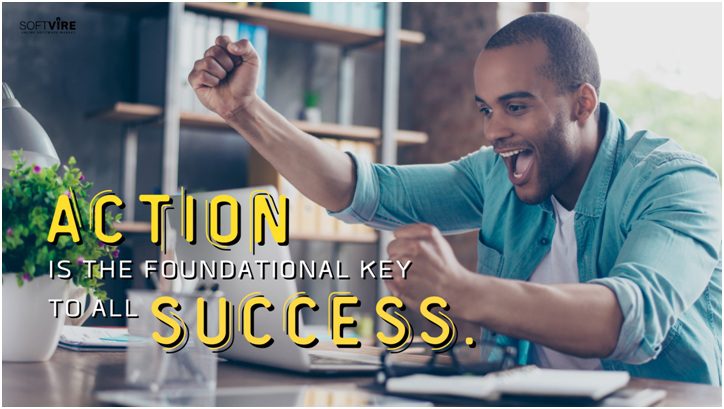 The importance of consistency in your company is much greater than you can realize. Being reliable helps you to raise awareness, create loyalty, and provide your services effectively and profitably. No business will succeed without it.
Consistency fosters habits that help your zero-investment business to gain momentum towards profitability. It develops patterns that become second nature to you and your business team. If you are going solo in this business, for now, these patterns you develop will become the culture in which your future business team will thrive.
"Small disciplines repeated with consistency every day lead to great achievements gained slowly over time." Consistency is particularly critical in business, as it can be the difference between winning and losing. Regardless of how great the plans for business growth, success is not assured without unwavering consistency. Just as Nike immortalized, "just do it," and keep doing it again and again.
Why Consistency is Important
When you are consistent in doing your business, it helps you measure the effectiveness of your efforts. Measurement is essential because it's like a GPS tracker that allows you to see if you are progressing along the lines of your business goals and if you need to tweak those efforts to improve your business.
Consistency also established accountability. For example, if you have set your business hours and are not there, how can your customers rely on you? You also need to be accountable for your deliverables and goals. If you set some goals for the month, you need to deliver to measure how successful these tasks were in reaching your desired outcome.
When you are consistent, you establish strong brand awareness and reputation. You establish a track record that helps you in lead generation and customer acquisition.
Consistency in business also empowers you to be relevant to your market and your target customers. Whether you are starting a zero-investment business or not, you need to consistently put effort into your business to gain the traction it needs.
In any kind of business, even those that start with no money, trust is a critical investment that can make or break a business. Consistency is key to gaining your consumer's trust and establishing a good business reputation.
Conclusion: Entrepreneurs Arise in the New Normal
Adversity can break the ground for innovation. In fact, entrepreneurs are rising in this time of pandemic in response to new problems and challenges that need new solutions.
As of now, an online business is the easiest way to a breakthrough in the business sector for those who can only start a zero-investment business. But it does not mean you cannot be competitive in the global economy.
New normal business strategies are leveling the playing field between large-scale businesses and startups. So even if you are opening a business with no money, your drive for success can help you take your business to greater heights.