Actress Kangana Ranaut, who is known for her strong acting, is currently in discussion about her upcoming film 'Dhaakad'. The shooting of the film is going on in Madhya Pradesh these days. Kangana is working very hard for this film, she keeps sharing pictures and videos related to the film. Recently, a few days ago, he shared some photos and videos from the film's set, which was also liked by all. Now recently Kangana Ranaut has shared her look from the film on her social media.
Kangana's strong look revealed:
Actress Kangana Ranaut has released a new poster from her upcoming film 'Dhaakad' today i.e. on Monday. Kangana strong look is seen in this poster that surfaced. In the poster, Kangana is seen as an agent, with machine guns in hand. Burning vehicles are visible around them. Kangana Ranaut shared the picture, writing, "They call her Agni … the brave one, I say she is my depiction of Bhairavi, the goddess of death."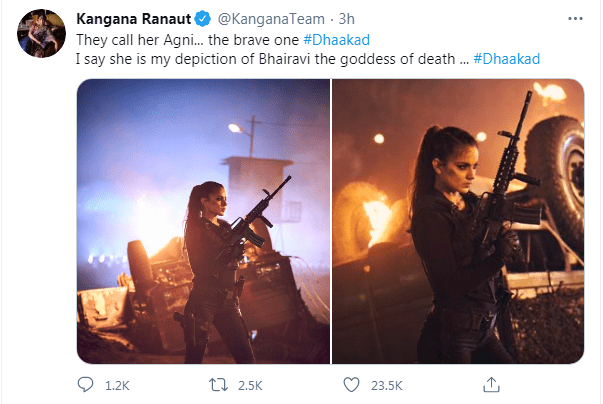 Let me tell you, the film 'Dhaakad' has a spy-action film, in which Kangana Ranaut will be seen playing the role of a Secret Service Agent. She will be seen doing tremendous action in the film. Kangana Ranaut's film can be released in theaters on 1 October this year. Recently, Kangana Ranaut announced this by sharing a poster on her Instagram. Kangana will be seen doing an action in this film. Arjun Rampal and Divya Dutta will also be seen with him in the film. The film is being directed by Rajneesh Raji Ghai.
25 crores spent shooting a scene:
Recently, Kangana Ranaut shared a video related to the shooting of the film on her Twitter handle a few days ago. With this, the actress has told that, the makers are spending a lot of money on the film. Kangana shared the post, writing, "I have not seen any director who gives so much time and importance to rehearsals. The biggest action sequence will be shot so far from last night, but I am surprised to see his preparation. I learned a lot. Is getting. More than 25 crores rupees are being spent on just this one action sequence. "
On the other hand, if we talk about Kangana Ranaut's work front, in the coming time, the Tamil Nadu Chief Minister J Jayalalithaa's biopic will be seen in 'Thalaivi'. Directed by AL Vijay, the film will be released in Hindi, Tamil Telugu. Apart from this film, Kangana Ranaut will be seen working in the film 'Tejas'. In this film, she will play the role of Air Force fighter pilot.