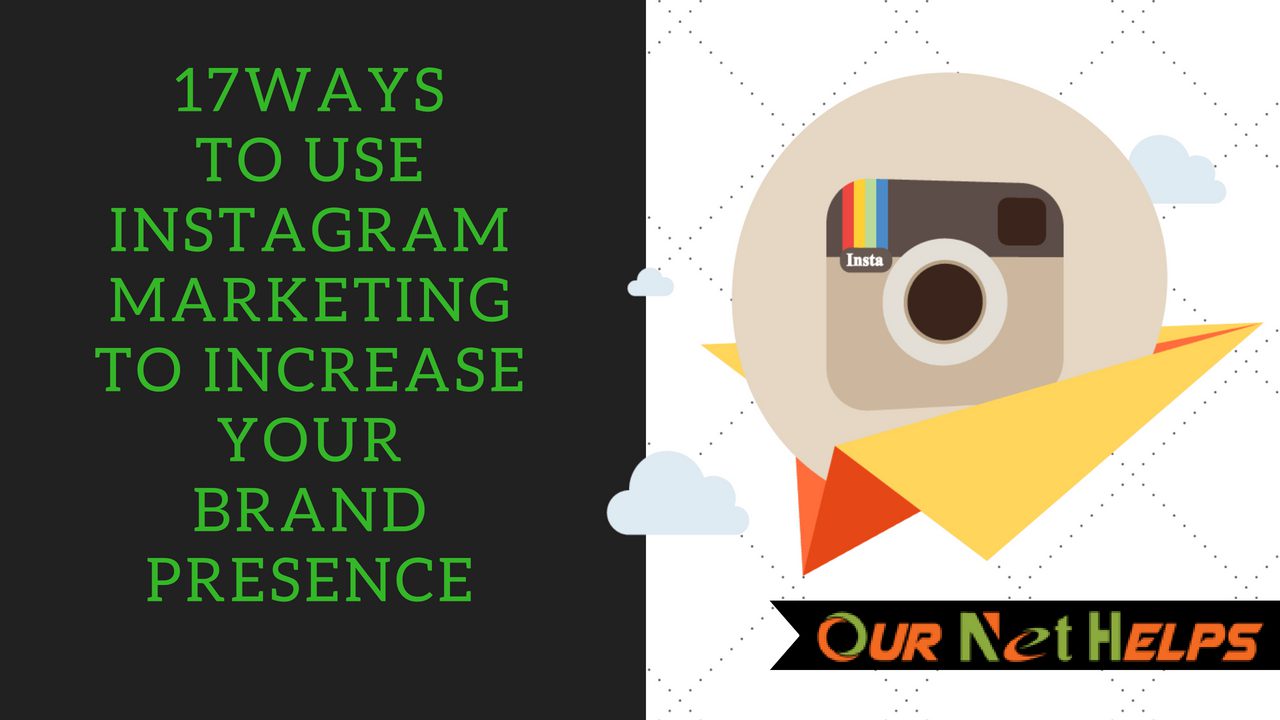 17 Ways to Use Instagram Marketing to Increase Your Brand Presence
As we know that Instagram is one of the best platforms to increase your sales or increase your brand presence. More than billions of users are using Instagram and millions of user use Instagram daily. Many of the brands use Instagram Marketing to increase their engagement and the brand awareness. Almost every brand has one common thing that is Instagram followers but some brand has more some brand have less.
There are many tools available in the market from them you can increase your engagement and audience. These tools work according to the algorithm of the Instagram and help you to reach your maximum audience.
There are many actors, public figure, writers and many more people who are using Instagram. You can use their presence to increase your brand engagement. Here I am talking about influence marketing.  Which is done by those people who have a great audience on social media platforms.
Now here I am going to mention 17 Instagram marketing points which is helpful for you to increase your brand presence:
1. Use Tools To Increase Your Followers And Engagement
If you are thinking that you can increase your Instagram followers fastly without doing anything then you are wrong you have to do Instagram Marketing for that. If you want to increase your followers day by day then use some tools of Instagram which can help you to gain followers according to your content.
SocialDrift, vital upgrade, and ViralRace these 3 tools help you to get more followers on Instagram. These tool work according to the functionality of Instagram that how Instagram works.
2. Create A Competition
If I am talking about the competition on social media then I am talking about more followers. Because competitions help you to reach the maximum number of engagement and these competitions are much alive on Instagram. These competitions motivated the contestants to engage the audience by sharing the post of the competition.
3. Reach With Instagram Ads
This is another best way to increase your audience or followers on Instagram. Every year there are billions of dollars spent by the people to increase their engagement and brand presence. If you want to grow your brand very quickly then these Ads are the best choice for you. These Instagram Ads will help you to grow your audience according to your brand specialty.
4. Switch To Instagram Business Account
If you are switching your profile to business profile of Instagram then you can see all the analytics of your Instagram profile like how many user save your post, how many of them comment on your post, how many impression your post will get, how many reach you post will get there are many things you can do with your business profile. You can also boost your post and see the analytics of your boosted post.
5. Content Formats
There is a variety of content format present on Instagram. So you have to choose the proper content for your brand. The format like pictures, videos, Memes and so on but make sure you write eye-catchy captions on Instagram posts to get attention to your audience and to increase engagement. So experiment with every format and check that which format is best for you and for your brand for better engagement. This will also help you to increase your followers.
6. Analytics Tool
Well, you can use a third party tool to improve your analytics for the growth of your brand. Analytics will help you to check that in which way you can grow more and help you to get more audience.
7. The Sorting System Of Instagram
If you want to make your content viral in all over the world then you have to know about the sorting algorithm of the Instagram. How the sorting algorithm of Instagram works. You have to know which location you post will go to viral or at what time your post will engage more audience.
8. Feedback From Your Audience
The best way to increase your followers is to get feedback from those audiences who are the most active audience on your Instagram page. Message them directly and ask them that they like the content of the page or not. Collect their feedback and then work according to your audience. This will help you out to get a number of followers in a short period of time.
9. Shoutouts
This is the best way to engage more followers with your brand. If you are giving shoutouts to the people from your followers' list then other people who are not your follower will follow you to get a shoutout form your page. This thing is helpful for your page and for that person too who got a shoutout.
10. Influencers And Big Brand
If you want to stay on top ranking of Instagram then must follow the big brand and the best-known influencers. Because these influencers will help you to grow your brand. The people who are popular on Instagram will set the trends and other people will follow them due to their popularity. So this thing will also help you to get more followers.
11. Embedded Your Instagram Content On Your Blog Or Website
This is another best way to increase your content reach. You just have to embed the code of Instagram post on your website and the person who is coming ton your website will see the post of your Instagram page and if they like your post then they directly open your Instagram profile from your website and will follow you.
12. Offer Discount Prize to Instagram Followers
You can give a discount to the followers of Instagram so that they get attracted from your Instagram page and help you to get more followers by sharing your post on Instagram. This will help you to get a large number of followers in a very short period of time.
13. Hire An Influencer
According to the recent study hire an influencer is an effective strategy to get a large number of followers on Instagram. This trick will increase your brand presence in the audience. Even micro-influencers who have less number of the audience but have some audience will also help you to get some followers and this thing is good for your brand presence.
14. Re-share Your Content On Other Social Media Platforms
There is a lot of other social media website where you can put your content to get maximum reach. As we know that there are millions of users on Instagram. So you have a lot of chances to get more followers by sharing your posts.
15. Link Your Instagram Accounts On The Bios Of Other Social Media Accounts.
This also helps you to get more followers. Suppose you have millions of audience on Facebook but less on Instagram then link your Instagram account on Facebook. The people who are interested in your content will definitely follow you on Instagram.
16. Host Live Events For Your Instagram Audience
You have to host some live events for your audience in which your audience can participate and win some prizes. This will help you to get more audience. Because this thing will give you a chance to interact with your audience and give them a chance to get a shootout on your live event.
17. Replying Comments After Regular Interval
You have to reply to your Instagram posts comments. This will help you to get interacted with your audience and shows your audience that you are interested in them. This will give a great impact to your audience if you are replying them.
These are the seventeen Instagram Marketing points I mentioned above will help you to get more followers on Instagram. Nowadays Instagram becomes more and more popular because it's is the best place to grow your business. Most of the brands who start from Instagram by selling their merchandise become more popular now. There is a lot of page on Instagram who has millions of follower. They provide the content according to audience demands and make their brand more popular. One live example is bewakoof.com. So choose your audience according to your content and follow these steps to get more followers fastly.
OurNetHelps is an online article directory with user-friendly article submission. We also Provide Online Web Courses and Services. All Courses and Services are Professionally Certified By OurNetHelps Experts Team. We are working hard to give you our awesome or best experience.