Advocacy marketing is a trending digital marketing strategy that brands are prioritizing. Similar to word of mouth referral marketing, it is a way of extending your brand positioning in spheres of influence beyond your reach.
Advocacy marketing may also come in free, or you may choose to offer some form of incentive. Either way, it's like multiplying your marketing team without much cost.
You do not get there overnight, though. Over time and with consistent, meaningful customer experiences, you will eventually turn customers into loyal followers who will talk about your brand to their circle of influence.
If you have an eCommerce website, advocacy marketing will help you build and strengthen your brand reputation organically. Optimizing this strategy will create a profitable flow of leads and conversions to your brand or business.
You can optimize prior digital marketing strategies and investments when your happy customers begin talking about you, your products, and your services.
Advocacy Marketing Drives eCommerce Traffic
Successful advocacy marketing drives traffic to your eCommerce website. However, it is rare for visitors to make a purchase on their first visit to your site. It takes about 5 to 7 brand impressions to build awareness about your brand with a visitor, but you only have about 10 seconds to make an impression.
Tough crowd, if you think about it, and this is why advocacy marketing is important. When customers openly promote your brand to their family and friends, these referrals will trust you because they know the person endorsing you.
83% of shoppers will trust referrals from people they know more than what you say about your product or services. A customer is usually more likely to purchase a friend's recommendation.
These interactions repeated about 7 to 13 times can potentially turn visitors into buyers. So you need to produce high-quality and engaging content consistently, so people keep returning to your site, keep sharing your content, and keep attracting leads to your eCommerce site.
Pair up Email Marketing with Advocacy Marketing
Email marketing is vital to digital marketing strategies. How will a digital marketing campaign be complete without it? Email is the most reliable approach to engage the target market and boost sales. It takes your campaigns where they need to go because many conversions take place through email marketing.
Dollar for dollar, email marketing is one of the most effective channels at your disposal for making sales and generating repeat customers. Email marketing lets you connect with your target market, make a sale, and accomplish marketing targets without the high cost of PPC campaigns or social media advertising.
The revenue you can get from email marketing can be up to $52 for every $1 of investment. It is why 82% of B2B and B2C companies often incorporate email marketing. 73% of buyers also choose email as a marketing channel.
Pairing up advocacy marketing with email marketing is a simple yet very effective strategy to increase brand awareness, engagements, conversions, and ROI (return of investment).
Your eCommerce site should leverage advocacy-driven strategies through email campaigns to drive engagements. Encourage reviews or offer incentives like freebies and discounts, so you can get return visits and repeat customers.
Once you capture your audience via email, position your newly acquired lead in a drip campaign to eventually move them towards their first purchase.
We have so many tweets and Facebook posts to keep up with, and email will provide more personal engagements. People are more protective of messages sent to their personal inboxes than social feeds. Plus, email gives you the space to say things you can't squeeze into a social media post.
Enhance your eCommerce site's eMail Campaigns
Simply capturing a lot of email addresses isn't enough. To have successful eCommerce marketing operations, you need to submit regular, useful emails to your subscribers.
There are several situations that your subscribers can actually enjoy a great email:
Send a welcoming email as soon as a customer makes a purchase.
Provide special promo codes and gifts for email subscribers.
Send regular updates alerting subscribers of new discount opportunities, product tips, and business news as needed.
Launch a BOGO program to encourage self-gifting during the holidays or other special occasions.
To help consumers get the best out of their recently bought products, share relevant content.
Appreciate your highest-value clients with the greatest regard. Send a personal note expressing gratitude for their business.
Request reviews.
Send an abandoned cart email. When anyone visits your web but doesn't make a purchase, ask them about their experience and how you can improve it.
Send wishlist reminder emails. It is designed to convince shoppers to take the final step in purchasing the products they have shown intent to buy. You can alert shoppers when items on their wishlist are almost out of stock or are on bigger discounts. It may just be the trigger they need to purchase the item finally.
Some Samples of Email Marketing for eCommerce Sites
Airbnb: Welcome Email
Here is a sample of a welcome email from Airbnb that provides easy-to-read guidelines and an introduction about their brand and its features. It is highly-visual, using positive and compelling imagery, and ends with a strong CTA (Call-to-Action).


Moosend: Welcome Email
Here is another example of a welcome email from Moosend. tIt may be simple, but it helps them easily identify between B2B and B2C welcome campaigns that tend to be more classic and useful than promotional.
Moosend uses personalization to get the attention of their new subscribers and establish trust at the get-go. Since the email copy looks appealing and very friendly, this simple welcome email can boost their interactions with their new subscribers.


Image Source: Moosend
Dyson: Cart Abandonment
The next image is a cart abandonment email sample. Dyson uses witty and readable text that does not make their email sound pushy or forceful. It includes the product image left on the cart with a sense of urgency and importance around the abandoned transaction.
It also has two CTA buttons that are mobile-responsive. Even if the user is on a mobile phone, they will see the CTA button as they scroll down the email, encouraging the customer to buy at the touch of a button.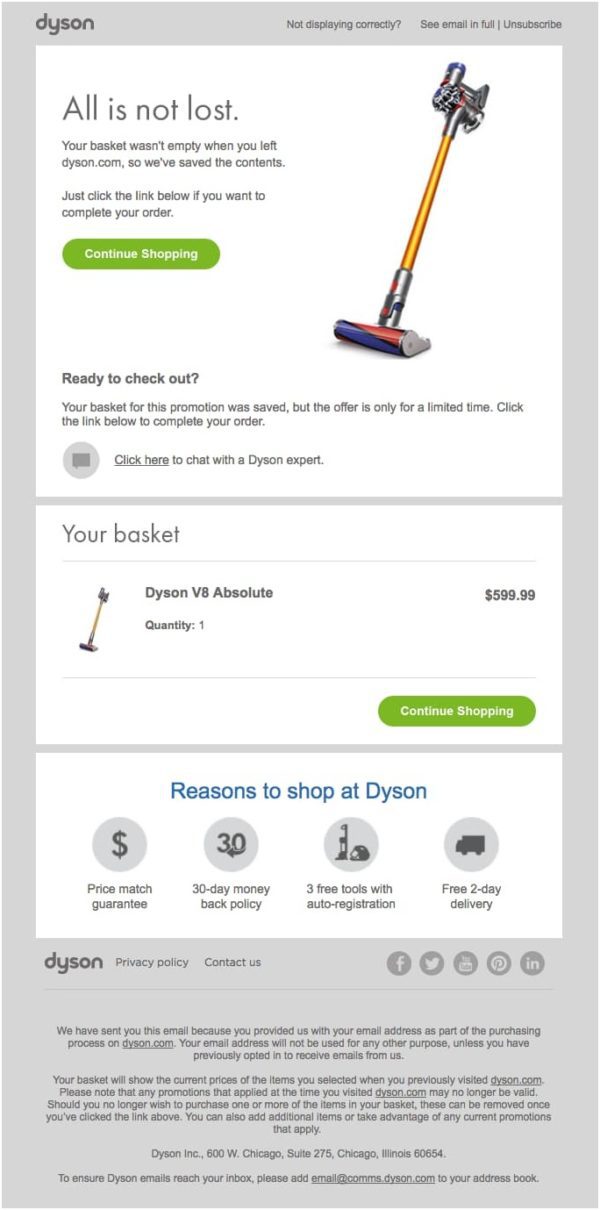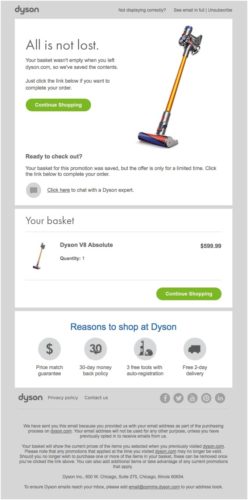 Image Source: Hubspot
Growave: Wishlist Reminder Email Tool
Growave is an eCommerce solution made to help you run effective email campaigns. It aims to make it easier for your customers to see you, engage with you, and stay with you. You can create funny yet straightforward ways to build, manage, and share customer lists and collect email addresses for more wishlist reminder campaigns.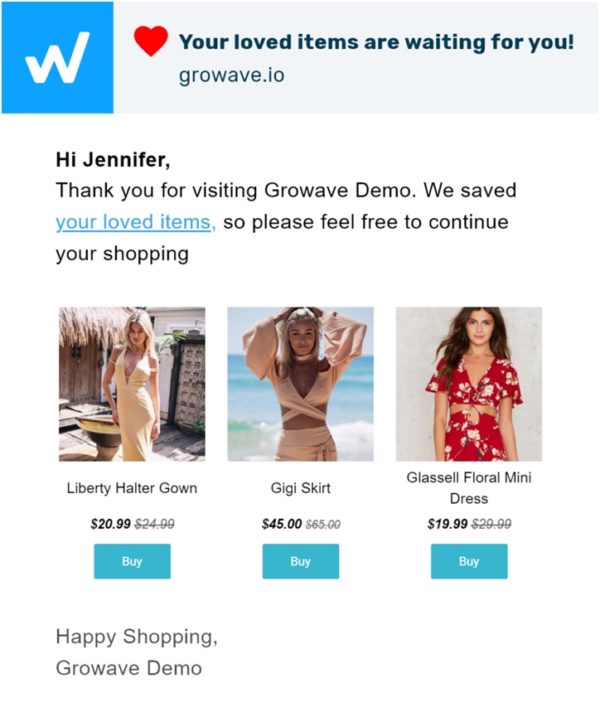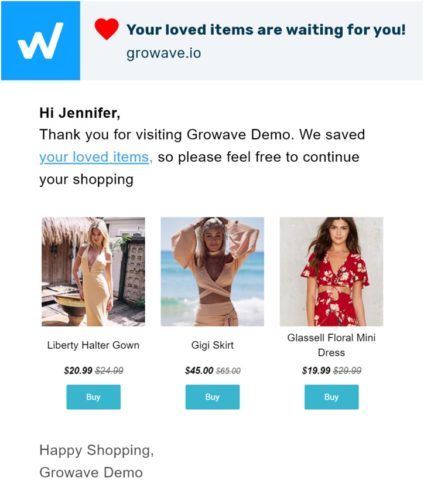 Image Source: Pushowl
Reward Your Brand Advocates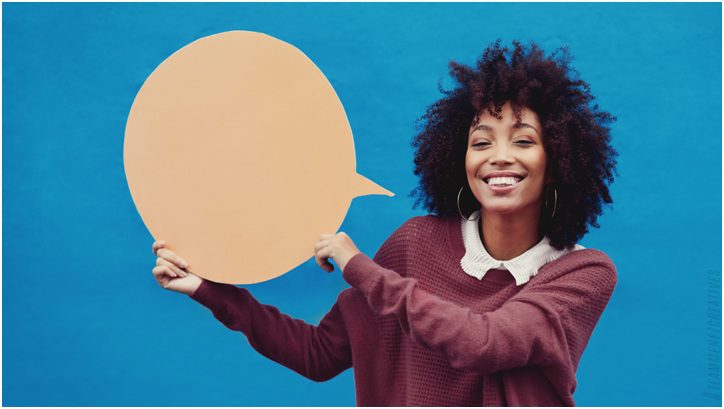 Image Source: TMC
The best method probably of integrating advocacy marketing with your email campaigns is to reward your brand advocates.
It not only nurtures your most loyal customers but also increases online sales and referrals. Return customers only comprise about 11% of your consumer base but bring in 22% of your revenue. Their spending is also at around 15% in one year.
You can start a loyalty or affiliate program. It gives your brand advocates extra incentive for buying and giving referrals. Because they now can get some incentives for their effort, all the more that they'll make an extra effort to endorse your product and keep your business top-of-mind through automated email reminders.
Conclusion: Advocacy Marketing is Long-Lasting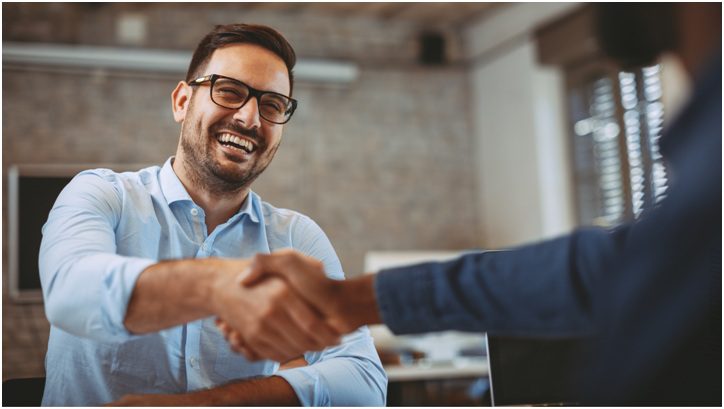 Image Source: TMC
Advocacy marketing is not a one-time or overnight strategy. It is like farming, where you need to wait a time for the fruit of your combined digital marketing efforts to grow. It takes time, commitment, and persistence to deliver outstanding goods and excellent customer support. It is all about doing our best to provide the customers with meaningful experiences.
Indeed, advocacy marketing is a lifestyle. You want customers talking about you naturally and have a deep foundation for a trust-based brand to consumer interactions.
Pursuing excellence with everything you do as a brand will spill over to your customers and produce the most committed, active, and life-long brand advocates.