Google Web Stories is an interactive and fun way to introduce potential audiences to your business or website. If you already use Instagram or Facebook, chances are you posted photos or videos to Stories. Google has decided to use a similar format to publish posts directly to your site.

The implementation of the functionality is very similar: you can download a story with a duration of 7-15 seconds and within 24 hours from the moment of publication it will be available to users. Then Google Stories disappear from the feed, or you can pin the story forever. Many features have been added to Web Stories, various stickers and other engaging elements. Stories are often used for promotional materials, brand promotion and e-commerce businesses. You can share news, promotions and novelties, add a link, and CTA.
Google Web Stories: The Complete Guide
Google rebranded Google AMP Stories in 2020 and talked about a new content promotion opportunity – Google Web Stories. The controls and specifications are similar to the format of social media stories. Visualization and advanced functionality adapted to any device.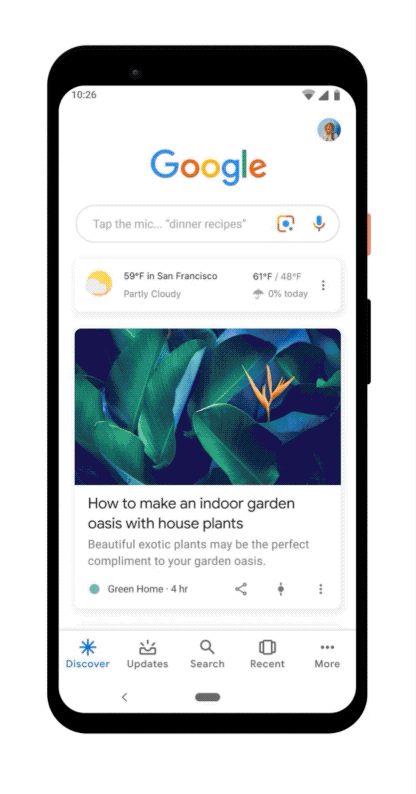 You can create a post using various tools such as Web Stories editor for WordPress, Unfold, Visual Stories, and more. The tools are easy to use: they are simple and intuitive.
Also, Google has agreed with popular publications (including Refiney29, Bustle) to publish Stories permanently. Posts look like magazine pages adapted for mobile devices. Clicking on Stories opens a full-screen spread with pictures or short videos. Users can add other interactive elements such as animation and audio, choose how long Stories are displayed, or permanently pin a post. Thus, AMP stories have been successfully rebranded.
Application and Placements
Google Visual Stories help you to intelligently drive targeted traffic to your website. You can track user views and clicks with Google Analytics and use them for emails and landing pages. Here are some more interesting facts:
When you create a story, you will be faced with specific SEO requirements such as adding metadata, titles, and links.
Stories are displayed in online publications in the following sections:

Discover (a separate card in the Google recommendations),
Google pictures,
google search on the home page,
in your own publications: the content can be used in email newsletters and brochures.

Web Stories functionality is available on iOS and Android devices.
Stories are indexed like web pages and can be used for search results.
Stories are created using Accelerated Mobile Pages technology (for a more detailed developer guide, click here ).
Google AMP Test tool helps you test and validate history.
The main feature that sets Google Stories apart from other solutions is the ability to create a web story on the site. The company provides a wider range of content promotion tools.
How to Create Stories?
Google provides an intuitive UI / UX with which you can quickly and easily create your web story. Before you start, think about the format and style of your stories. What do you want to tell? Decide how many posts you want to publish, what visuals and videos you will use. Don't forget to add your call to action (CTA).
If you are a developer, you can create a story using the AMP framework. To do this, you need to understand the Accelerated Mobile Pages documentation. If you are not a programmer, the following set of tools will work for you.
Tools
Let's take a look at the two main tools that Google recommends:
NewsRoomAI – Provides a free version and WYSIWYG functionality (what you see is what you get), as well as the ability to work with Getty, a photo stock with an extensive library that stores millions of images. With a Premium subscription, more options and additional functionality opens up.
MakeStories – Easily create and customize Google Stories with a user -friendly graphical interface. Users can use Google fonts and filters to edit images. The tool has a directory of free images, icons and symbols. It also introduces WordPress integration and the ability to export each story to a zip file.
Other Google tools allow you to track user activity and conduct analytics. Just create an account with your Google account and click on the "Create story" button.
Tutorial: Web Stories Playbook
The Google company has provided a complete guide for creating Web Stories on the site. In the content, you will see about 100 pages of interactive content. This presentation of information makes it easy to set up stories and shows how to quickly attract new customers.
The main sections of the manual are:
Overview: This section shows how Web Stories make it easier to find new targeted audiences and how quickly users can access new content.
Entry-Points: This section describes the different ways to integrate Google Stories with your site and how you can customize how customers interact with the service.
Design Details: A section that provides an overview of current design experiences and the use of various techniques to engage audiences with visual content.
There are different Entry point types or ways of displaying on the site. The developer or designer should be familiar with the basic features:
Singleton: Users can view a single web story on their home page or article.
Carousel: A module consists of several stories, side by side. You can show multiple stories so the audience can quickly view all of the content. Usually the carousel includes a preview.
Compact display: organize stories using categories and filters.
Filter by Author: Sort stories by author.
Separate Page: Create a dedicated page so users can view all stories in one place.
In the manual, you will find a link to the Design Kit, where you can purchase files for different story display options. At the end of the guide, you will find useful additional resources and links. What's more, you can get more information and more tips on platforms like Github or Slack.
Plugin for WordPress
Developers can integrate the plugin into the site and your WordPress media library will be available for Google Visual Stories. Thanks to the plugin, users can create stories and publish them directly to the site.
The Google team has created a user-friendly plugin with great templates and designs. If your site is built on WordPress, the plugin is a great integration solution.
Integration
Since Web Stories are created in WordPress, they will be included in the XML sitemap, making it easier to search on Google. Users can set metadata, pull up an image, insert a logo, and more.
You will also be able to select and add images from resources such as Unsplash and Coverr, and display posts in a vertical window. Compared to social media, Google Stories doesn't have much variety in editing. For example, users can only customize the background color, headers, style formatting.
However, developers can include promo links to other pages along with a description and logo of the service. They can create covers for the posts you link to, or create or view a link to a finished story.
In order to create Google Visual Stories, you need to click on the "Create New Story" button on the plugin page in the "Dashboard". Next, a white sheet will appear that displays a preset for the Story. Their users can add photos, brochures, logos, videos, animations, audio and upload a website.
Settings that will help you work with the content area on the left. For SEO and cover art, there is a Document section on the right. There you can choose one of the types of stories:
Draft
Public post
Private post
To save the Story, you can click Save Draft or publish the Story using the Publish button. In general, everything is native and understandable. Users can easily experiment with the design. For more detailed instructions, see the Enable Web Stories documentation.
Features of Web Stories
Google Visual Stories can help you tell about your product or service. Here are some examples and benefits that will benefit your business or startup:
1. Uniqueness
Content ownership is the main difference between Google Web Stories and social media stories. Since the stories are hosted on your own site, the copyright for the content belongs only to you. If you've created content using AMP, you can do whatever you want with it: embed it on your site, share or send it to users via email, and more.
Stories open up new and unique advertising opportunities. Stories can be integrated with Google Ads and other useful apps for marketers. SEO-related – this is a good option for promotional materials.
Google's Web Stories are also unique in that they bring a new experience to interact with the content on the site for old customers. If you want to refresh your blog, Stories full screen will help add dynamism to it.
With stories, potential customers can use a unique new method to find your service. With the power of the Google search engine and embedded SEO links, users can find your site online faster.
2. Promo and monetization
Any ads that appear on Google Web Stories are controlled by the content creator. This means that monetization is entirely up to the author. Hence, if you advertise in a web story on your site, you receive 100% of the revenue from the promotional material.
In addition, Google recently provided a Programmatic Selling Solution for Google Web Stories through Programmatic Ads and AdSense. The tool can be used to convert regular users into prospective buyers and encourage potential customers to follow affiliate links.
A whimsically illustrated, animated, how-to story is a great example of how you can monetize your campaign.
3. Link building
Many social media platforms with a similar story format do not recommend creating content and linking to other sites. This means that users need to look for workarounds in order to post promo links. As we mentioned above, in Google Visual Stories there are no such restrictions on the placement of external links.
4. Interactive
Web stories include the ability to host interactive elements to engage your audience, such as polls and games. There are technical limitations as some features are not supported by the platforms.
But unlike the previous beta version of AMP Stories (where users could only view stories on mobile devices), Stories can now be displayed on any type of device. This means that you don't need to adapt content and interactive mechanics for display on other devices.
5. Excellent functionality and indexing
Unlike other services, Google's Web Stories can appear in the feed for an unlimited amount of time. Stories are not automatically deleted after 7 days.
They are easily indexed by search engines. This means placing your content on the first page of Google won't require any additional work on your part beyond the standard SEO optimization required to rank your pages well.
6. It's fun
First, making history is fun. On average, users spend 5 hours a day consuming content. People love to flip through interesting and funny topics in their feed.
Various tools will help you create vibrant posts quickly and in a fun way. There are no design restrictions. With the "live-story" attribute, you can notify the user in real time that you have added a new post.
Eventually
Google Web Stories is a cool tool, but it still needs some work. It's still more versatile than the previous tool, Google AMP Stories. When creating a publication, adhere to the recommendations that are listed in the design, for example:
Companies should also take a closer look at the benefits of branding with Google's Web Stories. If you need help with development or implementation, it is better to use the services of specialists. If you're ready to reach new audiences and create engaging content for less, Web Stories is a massive competitive advantage!